Recruitment process
Each step of the recruitment process, from the publication of a job offer to the validation of the trial period, is clearly defined and organised. We are committed to implementing all means, tools and resources necessary for this process to run smoothly. This is our guarantee of transparency, fairness and efficiency.
This recruitment procedure allows us to identify the best candidates, leaving the opportunity to applicants to express their talents, personality, values, commitment, ability to work in groups, technical knowledge, and critical thinking skills.
Our recruitment process step by step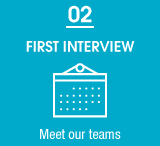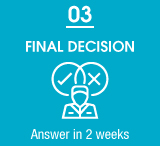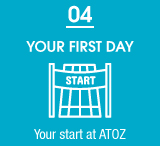 Staying close to the talents of tomorrow
To remain innovative leaders in our field, we are always looking to attract a new generation of bright, ambitious and forward-thinking tax & legal professionals. We have partnered with several top schools and universities to seek out students and recent graduates who are interested in getting to know us better. At job fairs and recruitment events, we give prospective recruits insight into ATOZ, and take the time to find out about their own career goals and aspirations. It's the best way to see if we're a match!
ATOZ, building a partnership with students
We are in close contact with key universities from France, Belgium and Luxembourg, having even developed exclusive partnerships with some of them. Such establishments offer us the possibility to collaborate with world-class faculty and staff, as well as with outstanding students who are preparing to become leaders of tomorrow's business world.
We are one of the Best workplaces in Luxembourg
For the past seven years, we have been certified as a "Great Place to Work" by the Great Place to Work Institute, an independent organisation based in the United States which analyses workplaces and surveys employees according to five key dimensions (Pride, Credibility, Respect, Camaraderie and Fairness) collectively referred to as the Trust Index. At ATOZ we take care to provide our members with the keys to a great working experience and we are proud to have been recognised year after year for this achievement.