Every year since 2011, we ask our Members to complete a survey conducted by the Great Place to Work® Institute. Based on our Members' feedback, this Institute is able to reward companies that have programmes and practises that make their workplace unique.
This year, Great Place to Work® Luxembourg celebrates its 10th anniversary, on this occasion they decided to reward 20 companies as Best Workplaces in Luxembourg.
We're very proud to announce that, for the 8th time in a row, we've been awarded as a Best Workplace. We reached the 2nd place of the Large Companies ranking.
To know more about our philosophy, Great Place to Work® Luxembourg asked a few questions to our HR Manager, Mylène Maffi. Here is the interview (available in French):
The reason, according to your employees, that makes your company a great place to work
Management's commitment and credibility. Empower our Members, support our managers when facing difficulties, be grateful for everyone's efforts. Management's commitment is a real driving force within the teams. We share successes, we understand what needs to be improved and dare to act accordingly. Our management has been able to create the best possible conditions to give meaning to our business and meet everyone's aspirations, both in terms of recognition and constructive, genuine communication.
The benefit that the Best Workplaces® Label brings/will bring to your company
Our Members are proud to belong to a company where it is good to work. By conveying a very positive image, our Members become our best ambassadors. This award is a recognition of the efforts made to improve our work atmosphere and promotes it on the Luxembourg market and beyond the borders. This way, the internationally known Great Place to Work label represents a significant added value. Our future recruits thus become aware that they are joining a company that maintains a pluralist, flexible and communicative corporate culture based on trust, fairness and respect.
The strength of your company
Henry Ford's quote clearly illustrates the strength of ATOZ: "The two most important things in any company do not appear in its balance sheet: its reputation and its people. »
The development and well-being of our Members are the key elements that enhance the overall performance of the Firm. 
ATOZ focuses on values such as trust and transparency but welcomes any initiatives that are sources of creativity and performance. To be successful, we must undeniably trust our Members. That's why they are at the core of our strategy.
The quintessential tool/means of internal communication
Our quarterly newsletter is the essential tool of our internal communication. Encouraging dialogue between the company and its Members, involving its employees and generating a positive work dynamic are the objectives of our communication. This communication method is well received by our Members, it allows us to inform them, break down the barriers, enhance recognition and contributes to our corporate memory.
Your HR priority for 2020
Boosting support for managers. In terms of skill development, managers will be in the spotlight of the HR strategy in 2020. After a management by results and a management by objectives, the HR function is now seeking to develop local management. This way, our managers will be responsible for the cohesion and motivation of their teams. They will have to enhance the link between generations, solve problems/tension when needed and identify/recognize our talented Members.
Email, phone or videoconference?
Videoconference: Fully in line with technological and societal developments.
Open or closed space work environment?
Open space: It allows instant communication and exchange of ideas between our Members.
LinkedIn, Twitter or Facebook?
LinkedIn: Ideal to share our group's interesting news and knowledge with as many people as possible.
Summer Party or Christmas Party?
Christmas Party: Between recognition, sense of belonging and friendly atmosphere, the Christmas Party is the unmissable event of the year.
Team lunch or afterwork?
Team lunch: They allow us to follow up with the teams, discuss the general organisation and reinforce the communication within the team.
The study conducted by the Great Place to Work® Institute allows us to know what our Members think about our work processes and guides us in improving our work environment, and in the end, improving our Members' commitment. The label is then a recognition of the efforts we've done in this respect. I'm very proud that ATOZ has once again been awarded as one of the Best Workplaces in Luxembourg!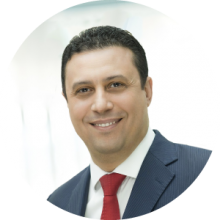 Fatah Boudjelida, Managing Partner - Operations